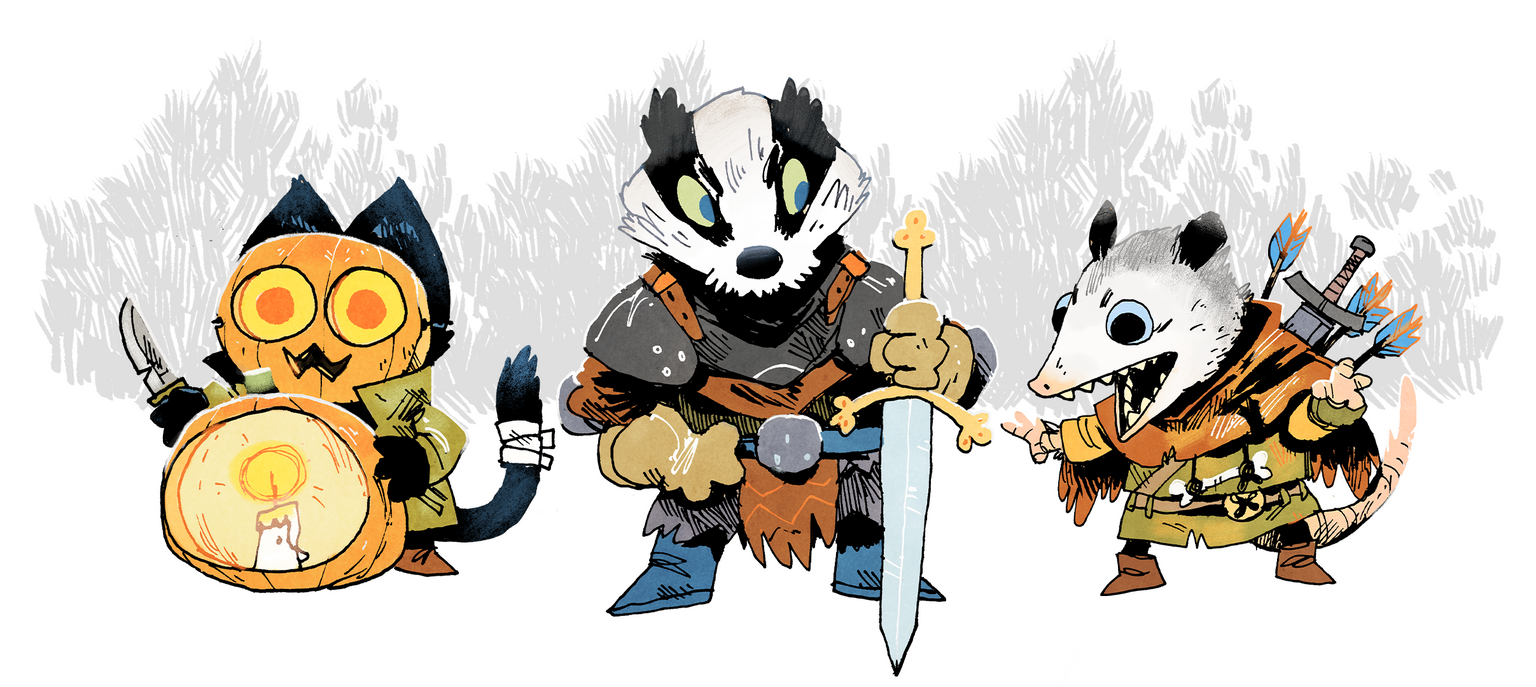 Cooperate
Mechanical Marquise – Wage war against the Mechanical Marquise in competitive, solo, or cooperative modes!
Lizard Cult
Attempt to indoctrinate the dispossessed creatures of the woods and spread your creed far and wide.
Riverfolk Company
Capitalize on crisis. Offer services and expand your trade operations to secure your status as a merchant king.
Components
Booklets. Learning to Play.
Cardboard Pieces. 15 Buildings, 9 Tokens, 3 Victory Point Markers, 1 Outcast Marker, 9 Relationship Markers, 11 Items, and 17 spare pieces with letter backs for future scenarios.
Wooden Pieces. 40 Warriors, 1 Vagabond Pawn.
Cards. 4 Spies, 2 Faction Overviews, 3 Vagabond Characters.
Other. 4 Faction Boards.
Credits
Game design by Cole Wehrle
Illustrations by Kyle Ferrin
Editing by Joshua Yearsley
Based on a concept by Patrick Leder
Development by Leder Games' St. Paul staff— Patrick Leder, Cole Wehrle, Jake Tonding, Clayton Capra, and Nick Brachmann—and by the intrepid Joshua Yearsley.
Graphic design and layout by Cole Wehrle, Kyle Ferrin, Nick Brachmann, and Jaime Willems.
Proofreading by Kate Unrau.
Playtesting by Grayson Page and his amazing group (inc. Martin, Jared, Richard, Tony, Harvey), Chas Threlkeld, Drew Wehrle, Blake Wehrle, Corey Porter, Kyle Kirk, Matthew Root, Mark von Minden, Davey Janik-Jones, the stalwart players of First Minnesota, Jim Bolland, Melissa Lewis-Gentry and ModernMyths, Jennifer Gutterman and Hampshire College, Matthew Snow, Justin Dowd and the Brass Cat, the Owl & Raven crew, Josh Houser, Brian Peterson, Ethan Zimmerman, Brandi Leder, Heather Brian, Ted Scamp, Jenny and Matt Benusa, and many others.