Ahoy!

After playing many Blackfish vs Mollusk games I had become much more confident in the viability of alternative factions and felt like I had gained an even deeper understanding of how these factions worked with each other.

For the two player factions it isn't only about having interesting gameplay, it's about being an interesting opponent that will force out interesting gameplay from the enemy.

It reminded me much more of fighting game match-ups, like how introducing a character with fireballs will force new approaches from the enemy. It changes both sides.

With that in mind I knew I wanted tools that would matter to both players, and from a thematic perspective I thought a "Ready, Aim, Fire" kind of action structure would be really satisfying.

This is where the range die came in as a ripple to their ability to spread Comrades. At the top of the round you roll a 5th D6 with a distribution of 1,2,2,3,3,4 and it's automatically assigned to your range.

Then, at the end of each turn, any of your pieces will Launch Ready Comrades in a straight line onto any islands EXACTLY at range (even over sandbars and gaps in the map)!

This addition gave a layer of planning for you and the opponent and is also what solidified them as Turtles, if you're gonna be launching yourself across the sea you better be tough!

The Shellfire Rebellion had emerged, and the first cut of their player board is actually shockingly similar to the current development version rules wise.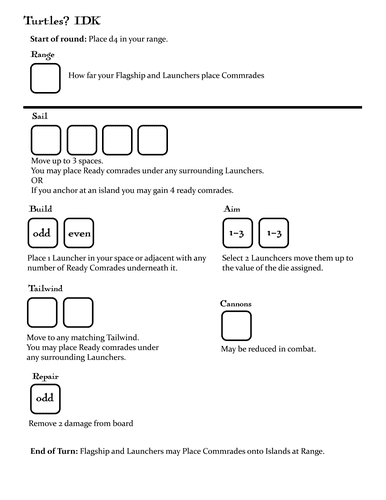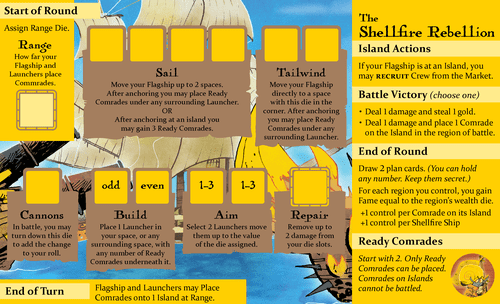 I wanted the Flagship to feel important but like it couldn't do the job alone, unlike the Mollusks. Building Launchers will let you cover more islands but that means continually supplying them with Comrades. Initially restocking the Launchers was too difficult and since it was already harder to get Comrades on islands this felt debilitating.

I didn't want to make the Flagship faster as that has too many knock-on effects so I instead increased its range of capabilities. Many of the Shellfire actions allow them to do things in the surrounding 8 spaces, rather than just the adjacent 4. This solved a lot of the small positional woes, things were just a bit easier to access.

The Shellfire Rebellion also uses a deck of 12 plan cards like their Mollusk friends but has gone through some version changes. Card powers are one of my favorite things to work on so I was excited to create a whole new plan deck. The Mollusk deck required very few changes from Greg's original so it was uncharted territory.

I quickly found the deck I created was way too combo-y. Played in certain strings, cards were 2-3 times more effective. What this resulted in was long unbroken sequences of 4-5 cards being played with essentially no regard for the players die pool, gold or Flagship position. Like I mentioned in my previous diary, we want players to PLAY Ahoy and that means engaging with the map, enemies, dice, crew, etc. This new deck did that without having the same combo problem of the previous deck, cards are more independently good allowing the player new strategies rather than being the strategies themselves.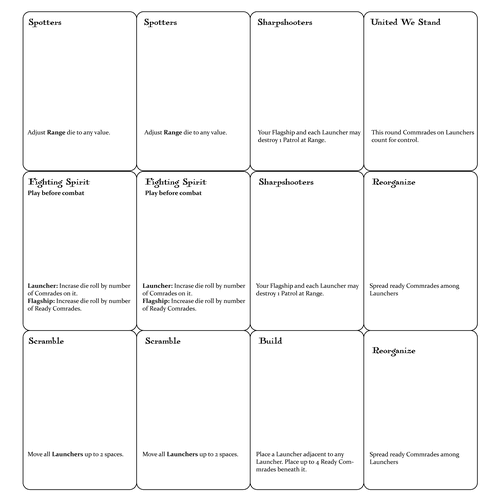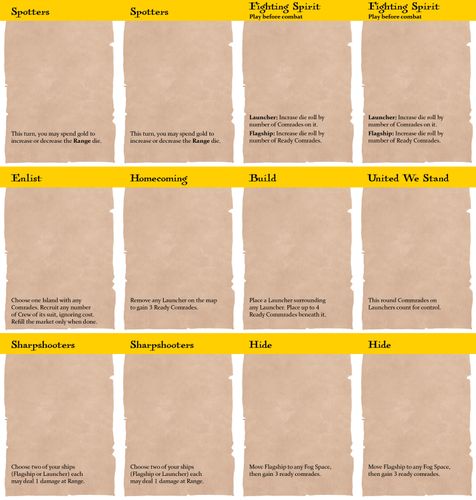 Both the Blackfish Brigade and the Shellfire Rebellion really lean into the map construction and spatial elements of Ahoy which I find are some of its biggest strengths. The mental image of turtle pirates getting catapulted across the ocean is just the cherry on top.

Check out the Ahoy: New Horizon campaign on BackerKit for more info!